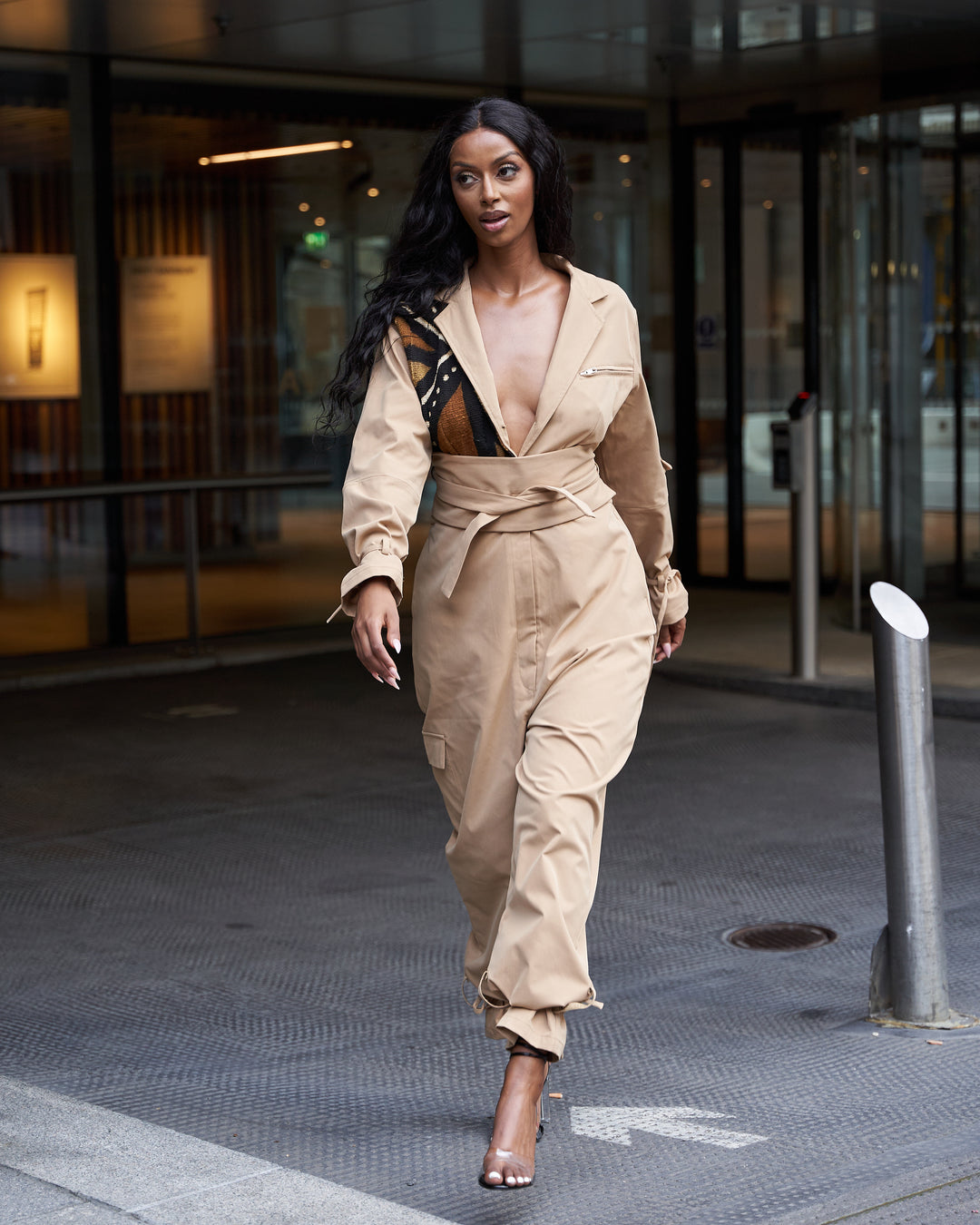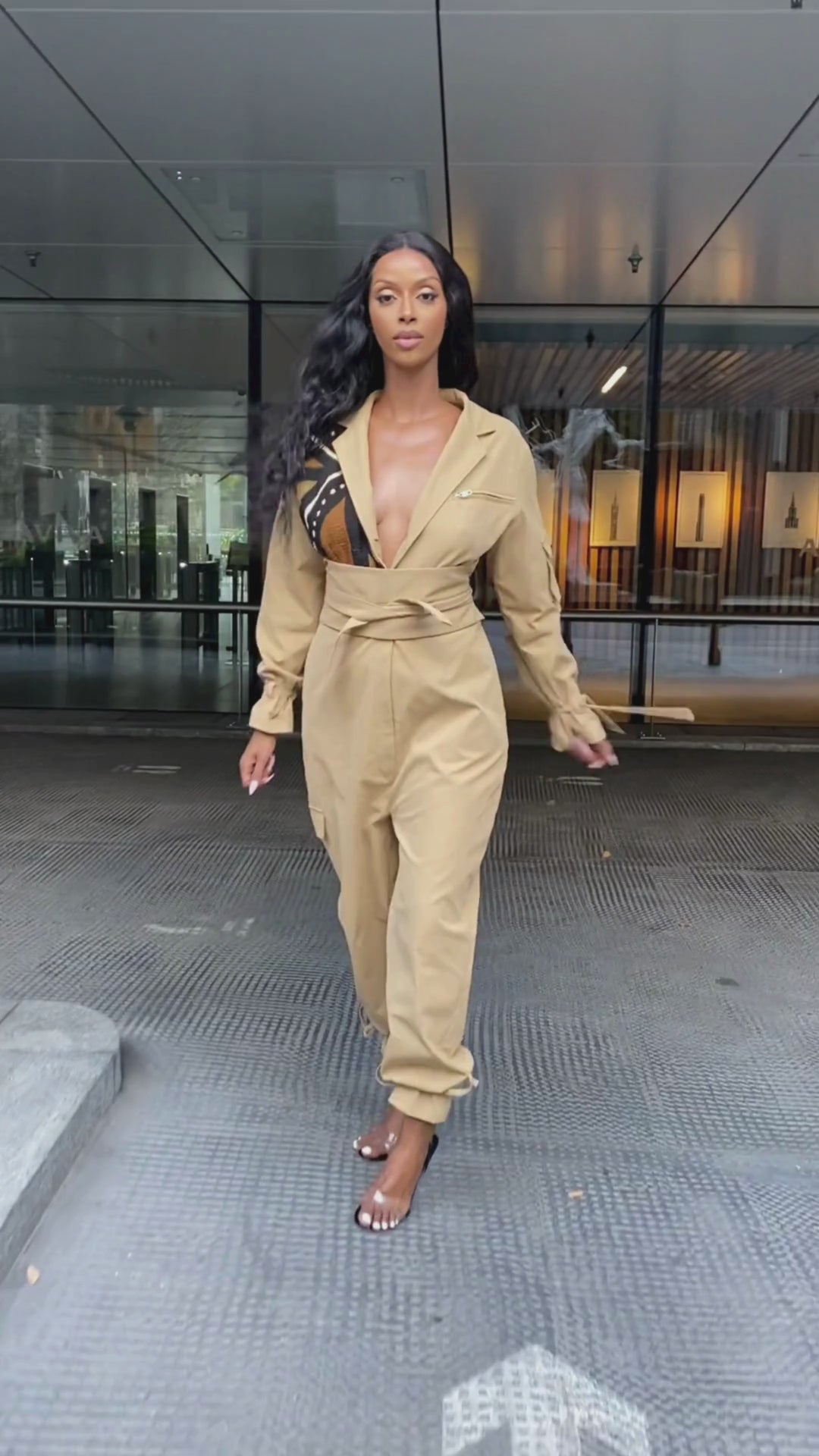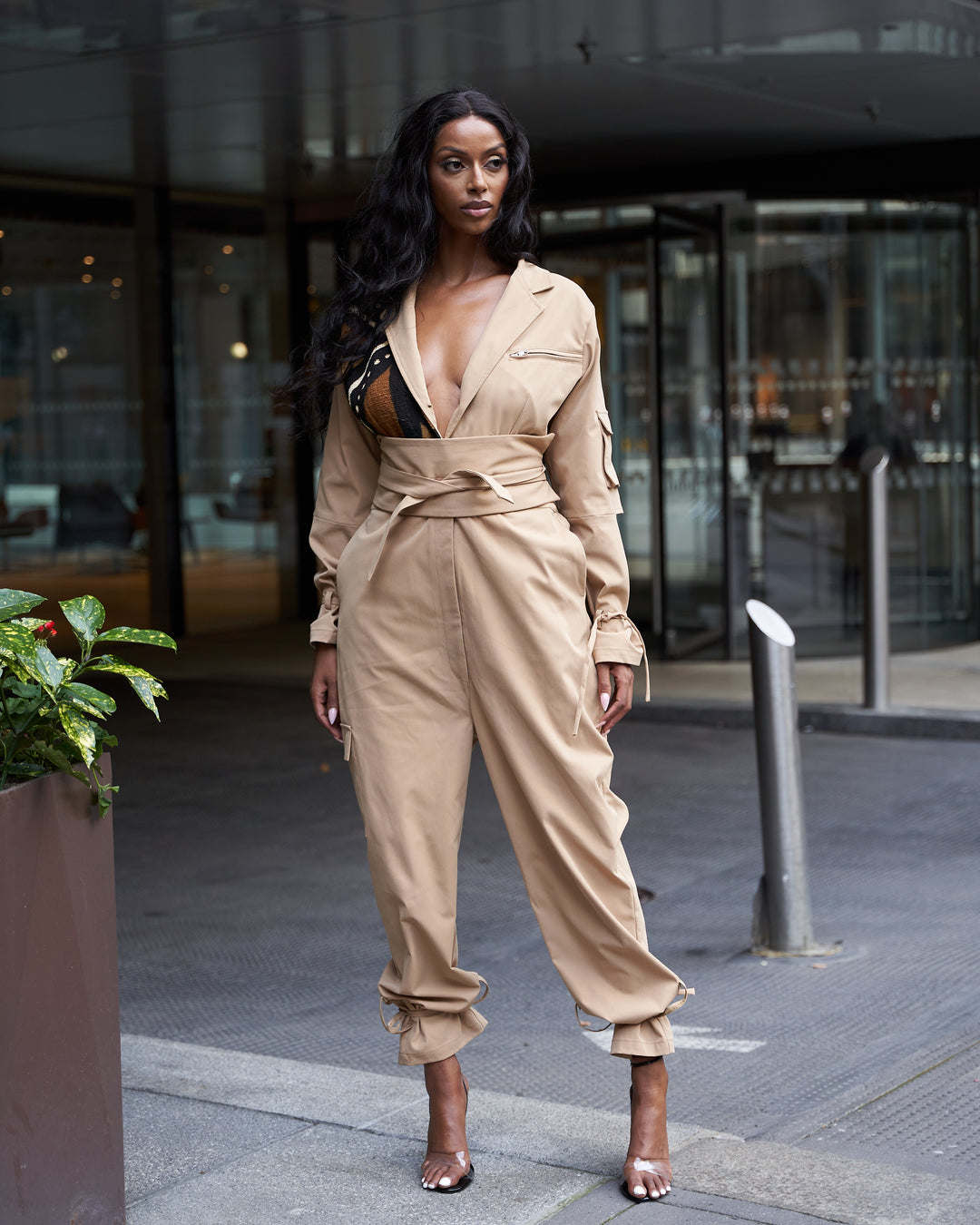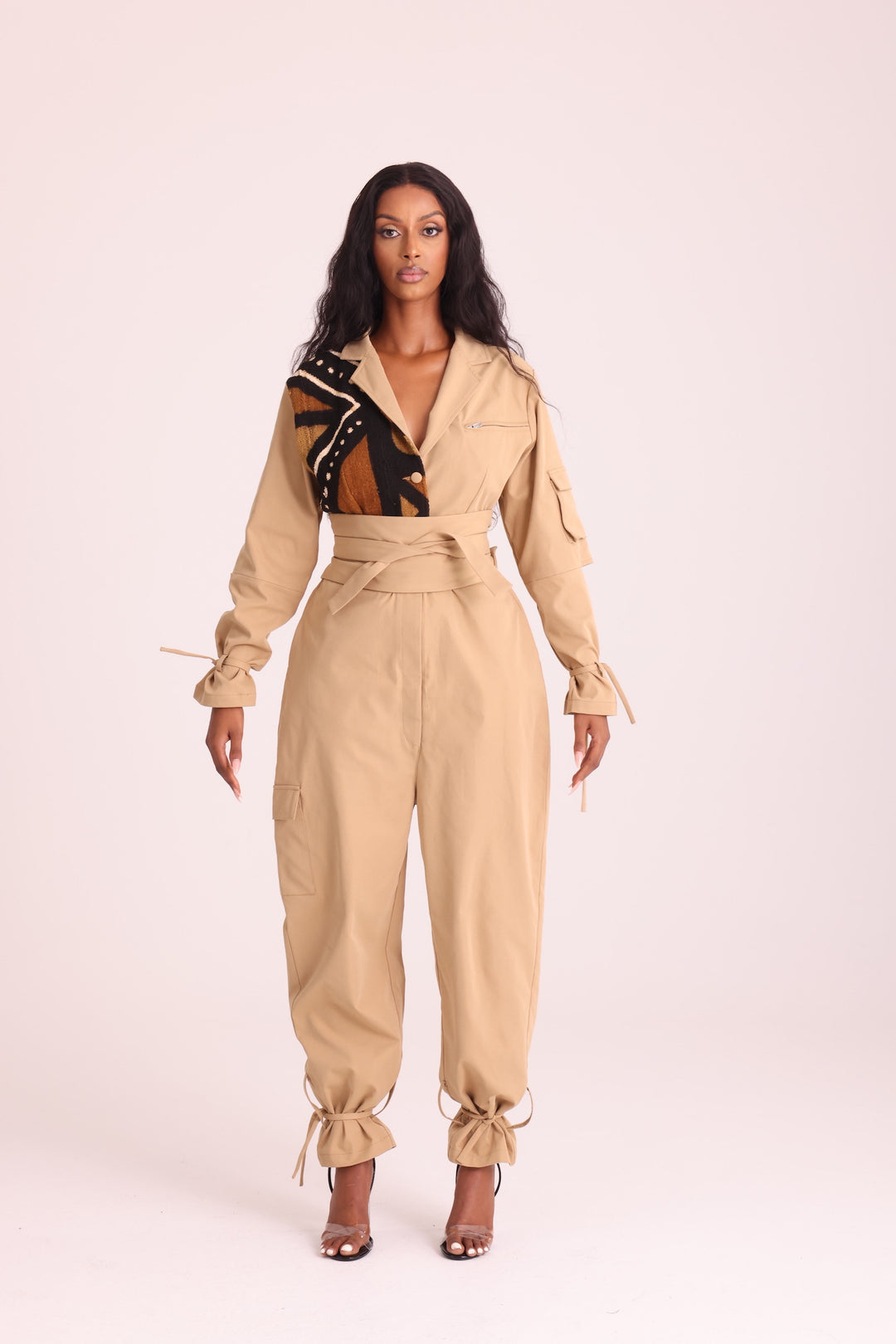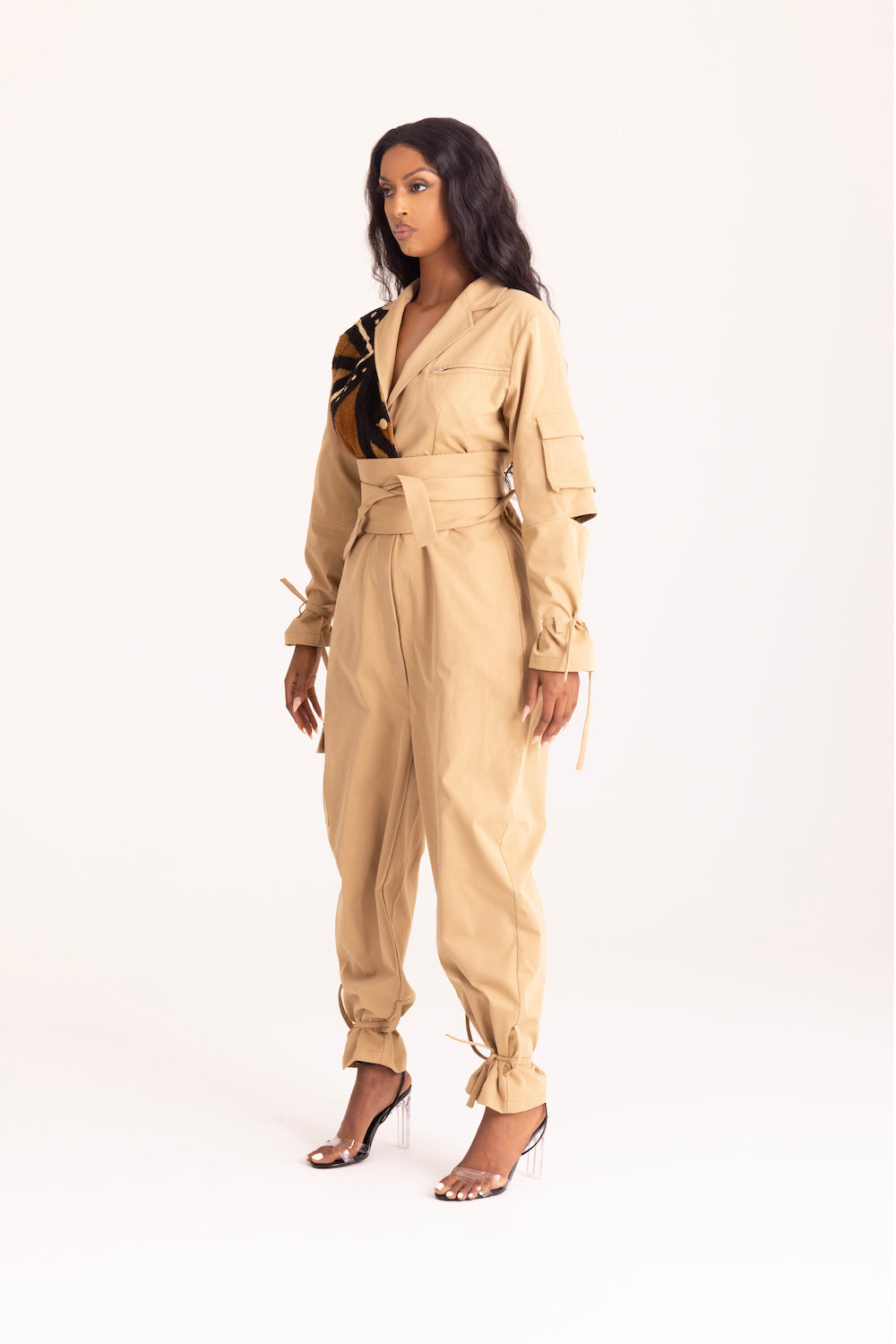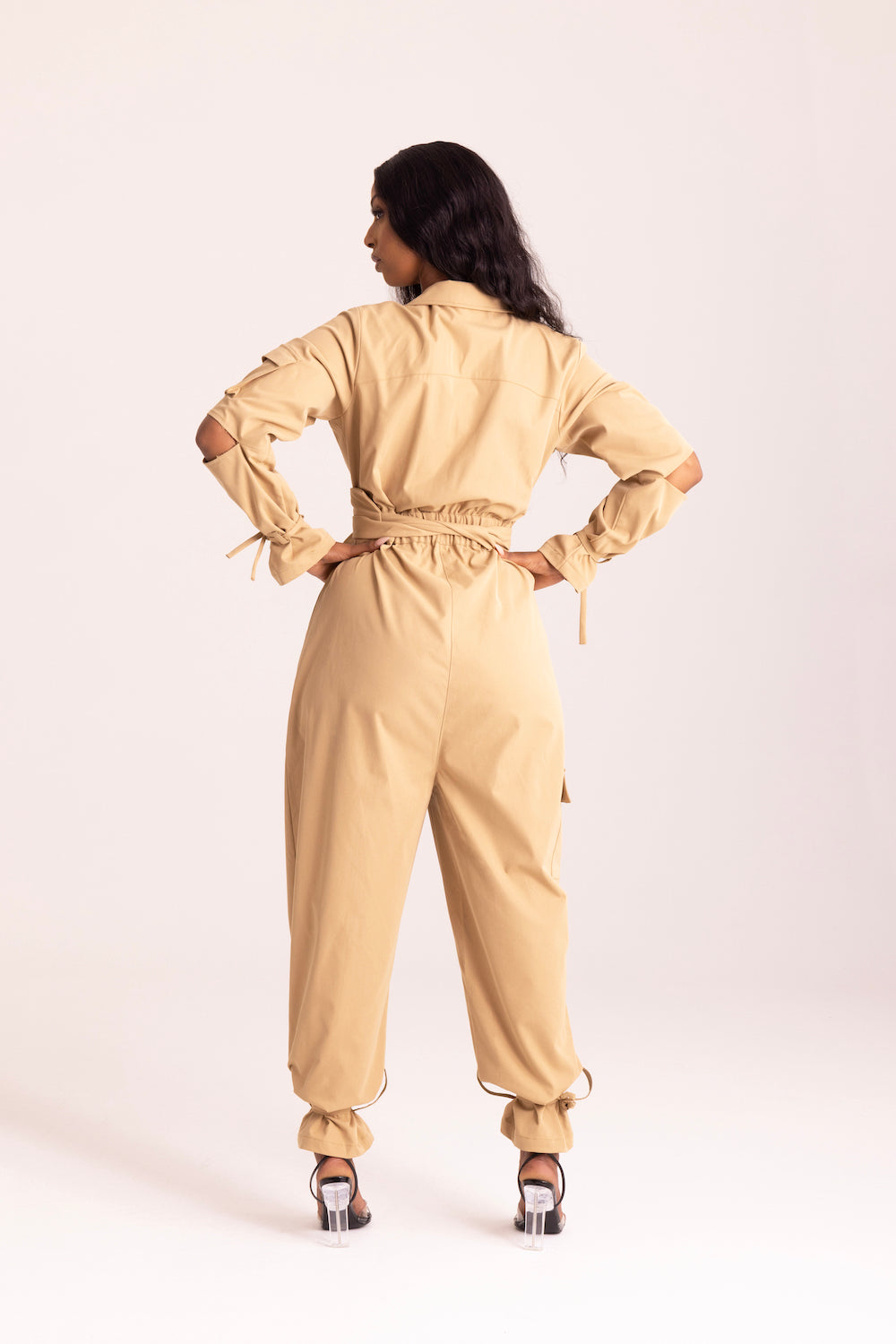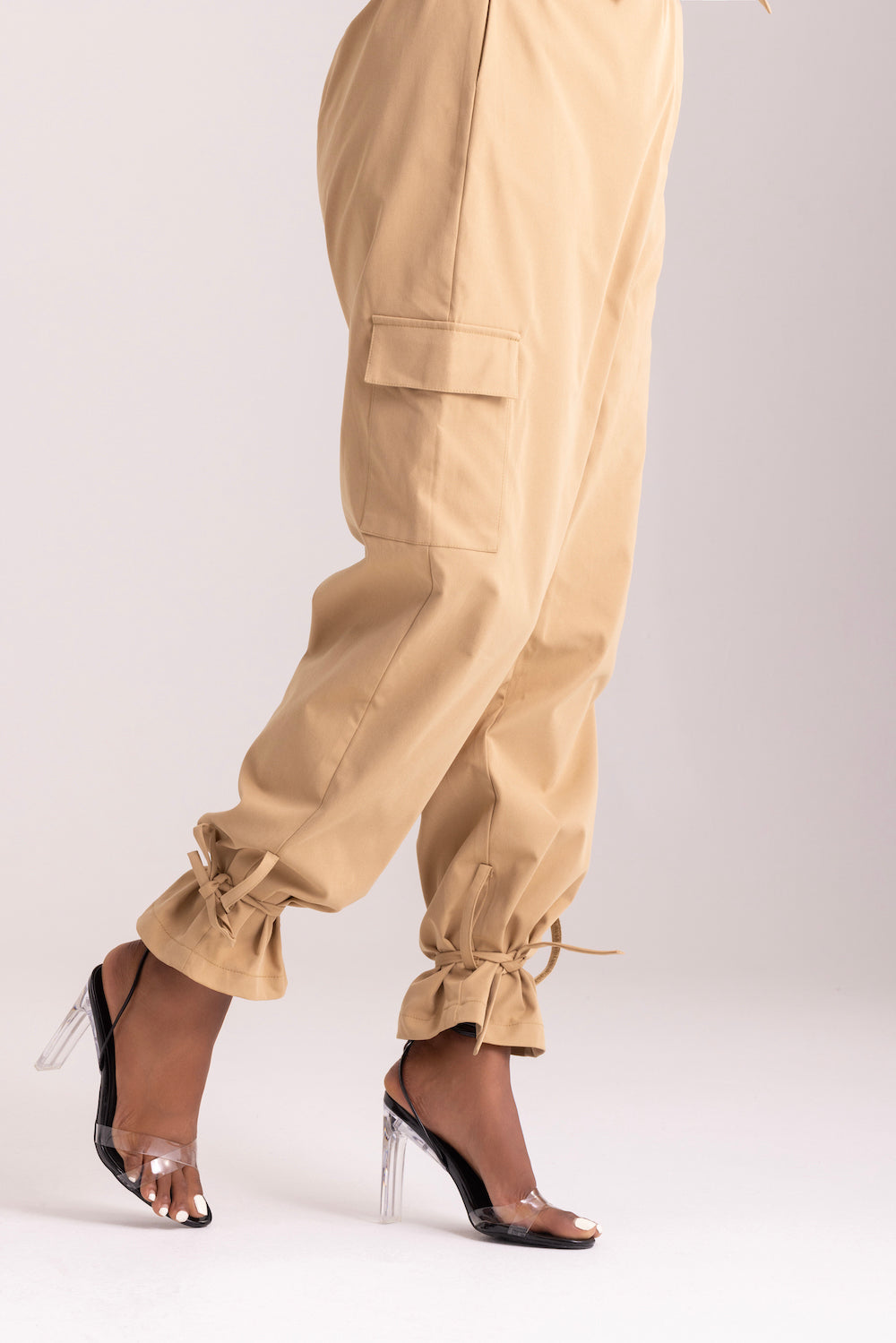 Hawa Camel Nude Military Utility Boiler suit Jumpsuit (PRE-ORDER)
Introducing the Hawa Military Boiler Suit - Your Ultimate Blend of Comfort, Style, with a touch of culture.
Unleash Your Inner Boss: Elevate your fashion game with our Camel Blazer Style Long Sleeve Boiler Suit. This military-inspired masterpiece combines the best of style, functionality, and the enchanting allure of Mud Cloth, ensuring you make a commanding statement wherever you go.
Mud Cloth Magic: We've taken inspiration from the rich and captivating tradition of Mud Cloth to infuse this boiler suit with cultural significance. The placement of the Mud Cloth-inspired print adds depth, meaning, and a unique visual appeal that pays homage to age-old traditions with a modern twist.
Attention to Detail: Crafted to perfection, this boiler suit features detailed tie-in cuffs at the wrist, giving it a unique and sophisticated flair. The blazer-style design adds a touch of elegance to the rugged military look, making it versatile for various occasions.
Functionality Meets Fashion: We understand the need for practicality, which is why our boiler suit is equipped with multiple pockets to carry all your essentials. The elasticized back waist ensures a snug fit, while cargo pockets offer ample storage for your belongings. 
Effortless Style: With ankle tie cuffed legs and a hidden front zipper, getting in and out of this boiler suit is a breeze. The waist is elasticated, providing both comfort and a cinched look, giving you a boss fit where you'll feel free to move without sacrificing style.
Cultural Edge with Subtle Elegance: The placement of the Mud Cloth-inspired print on this boiler suit subtly represents culture with a unique and distinctive edge. It's not just clothing; it's a statement piece that reflects your individuality and pays homage to the traditions of the past.
Where to Wear: This boiler suit is your go-to choice for stylish dinner parties, casual gatherings with the girls, rooftop bar adventures, and glamorous functions and events. It's versatile enough to suit various occasions, making it an essential addition to your wardrobe.
 Model wears size UK 8 and is 5ft7 tall
Please state Standard size or Tall in note section
NOTE: This item is on Pre Order. Shipping lead time is approx 4-6 weeks as the item will be made to order and will only be refundable to store credit if returned or cancelled. 
Care Instructions:
Not suitable for machine wash
Do not tumble dry
Do not wring 
Hand wash cold
DO NOT IRON
DELIVERIES
WHERE DO YOU DELIVER TO?
Our UK delivery service includes England, Scotland, Northern Ireland and Wales, together with the Channel Islands.
We also deliver worldwide which includes USA, Canada, New Zealand and Australia and the following countries within Europe.
HOW MUCH DOES DELIVERY COST?
We do have a standard delivery cost but due to the size and weight of some of our products delivery cost may vary in the price range below.
UK NEXT DAY DELIVERY  1-2 working days - £4.99
EUROPE 3-10 working days - £14.99 - £19.99
INTERNATIONAL EXPRESS  2-5 working days - £24.99+
HOW LONG WILL DELIVERY TAKE?
We aim to ship out parcels within 1-2 working days. Tracking numbers will be available via email to check the status of your parcel.
Pre-order terms
Please note that in-stock items ordered with pre-order items are subject to stock availability and will ship when the pre-order item is available. 
Pre-order shipping dates may vary slightly subject to delays
It takes from 2- 6 weeks for items to be made and could take longer if any unexpected events have occurred.
WHAT TIME WILL MY DELIVERY ARRIVE?
Deliveries can be made any time between 7.00am and 9.00pm.
WHAT IF I AM NOT IN WHEN MY PARCEL IS DELIVERED?
The delivery company may leave the parcel with a neighbour, or if there is a safe, secure location at the property they may leave the parcel there. The delivery company will leave a card saying that they have attempted to deliver the parcel, and provide you with details on where the parcel has been delivered to, how to contact them to rearrange a delivery time or to advise where you can collect your parcel from.
WILL A SIGNATURE BE NEEDED FOR MY DELIVERY?
If you or a neighbour is home to accept the delivery, then a signature will be required. If nobody is home to receive the parcel, then our carriers may attempt to leave it in a safe location. A card may be left to advise you of this, or to confirm that the parcel has been returned to the local depot. You can then contact the courier to arrange collection or to schedule a new delivery date that is more suitable for you. 
Returns
Returns requirements
Your item/s must be unused, unworn and in the same condition as received. The return must requested within 14-days of ordering. All original packaging (bags and hangers where they were included free) with swing tags must be intact and included. We cannot accept returns if any of these have been removed and the original packaging has been discarded.

In the case where it is evident the item has been worn (leaving makeup residue, washing fabric scents, perfume etc.) or damaged, DAOLONDON reserves the right to deduct the necessary value for cleaning, repair and restock.

We refuse the right to accept any returns that are believed to be made maliciously, fraudulently or to cause loss, damages or copyrights too DAOLONDON. In the event continuous returns are made, refusal of returns will be considered.

How long do I have to return an item?
For UK customers, you are able to return unsuitable items within 14 days of the date shown on the dispatch note.
For USA, Canada, Australia and New Zealand customers please return items within 30 days of the date shown on your dispatch note.
For all other International customers, please return unsuitable items within 14 days of the date you receive the parcel.
How much does it cost to return an item?
UK/Republic of Ireland

 

- 

 

We're sorry but we are unable to offer a full refund for the return service. Returns must be made at your own cost. But, a discount will be applied towards your next purchase as soon as we receive the items in its original state with a tracking number. 

USA, Canada, Australia, New Zealand, Europe/Rest of World

 

- We're sorry but we are unable to offer a full refund for the return service. Returns must be made at your own cost. But, a discount will be applied towards your next purchase as soon as we receive the items in its original state with a tracking number. 
Returns labels/How do I return an item?
Please follow the process below for returning your parcel to us.
It's as easy as 1, 2, 3! Just follow our hassle-free, 4-step process:
1.Email Info@daolondon.com with the subject title 'RETURNS' along with a description of the fault , order ID, name and contact details before posting returns.
2.Re-pack your item(s) in the original packaging, or in a secure, waterproof package with labels and tags still attached.
3.Cover your original address label with the sticky Daolondon returns label found in the packaging, remembering to get proof of postage. Please don't post your package through the post box without getting proof of postage. Keep it safe in case you need to use this as evidence of your return.
4.Return the package by using the Post Office counters and obtain proof of postage from the Post Office.
How long does it take to process my return?
We aim to process your return and refund you as quickly as possible, but it may take up to 21 days for your refund to be processed after you have returned your item(s) to us. If you have not been refunded after 21 days of returning the item, please contact us with the proof of postage information on your Post Office receipt and we will look into this for you.
How can I track the status of my return?
We will send you an email as soon as your parcel arrives back to us, and again when we have processed your refund. Kindly note that it can take 3 - 5 working days for the payment to show on your account, depending on your card issuer.
Can I have an exchange instead of a refund?
Unfortunately, we are currently unable to process exchanges. You can return your item to us and place a new order to receive the item of your choice.
What should I do if I receive an incorrect or faulty item?
We're sorry to hear that you've received an incorrect or faulty item. Please leave a message in the contact us page stating the order number, and further details of the issue. And we will be more than happy to look into this for you.